Welcome message from the President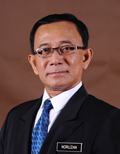 Dear Colleagues,
Being in the veterinary profession has proven the importance of the human-animal relationship to be recognized and nurtured at all time. I am deeply honored to be given this opportunity to lead the Veterinary Association Malaysia for the term 2018-2020. On behalf of the Executive Committee (EXCO) members, I would like to thank the members for the opportunity to contribute towards sustaining the myriad of activities that our association has carried out so far.
This term has been no less challenging than the previous term for the veterinary profession- several issues have emerged, been deliberated and resolved. The Veterinary Association Malaysia has been an integral part of the profession and we plan to go at the grass root to get a better picture on the current issues and struggles of the veterinarian by conducting townhall sessions, seminars, annual VAM conference and annual general meeting. We hope issues such as Continuing Professional Development (CPD), Professional ethics and conduct, re-emerging and emerging diseases (Rabies, African Swine fever, Avian Influenza etc.), veterinary drugs registration and Anti-Microbial Resistance (AMR) can be discussed and deliberated in-dept.
The Veterinary Association Malaysia also recognized the contribution and looking forward to strengthen the collaboration with all the affiliate members such as MAHNIA, MSAVA, SVA, MNAWF and MAVP by co-organizing seminars that are related to the subject of interest. The association also would like to get a representative from the association to be in the other government bodies such as Poison Board under MOH, Pesticide Board under MOA and Feed Board under DVS if the current legislation allows to do so. The view of the veterinary profession and industry should be heard and to be taken into consideration in any issues related to the veterinary sector. The veterinary profession is one of the professions that comes with huge responsibilities and accountabilities. Thus, this profession must be conducted in an orderly manner according to the rules, regulations and codes that govern the profession. The association is ready to facilitate the amendment and development of the new Veterinary Practice Bills and codes to fit the current needs and requirements of the profession and industry in facing the future globalizations in consensus of the OIE term of international standard in the Organization's Codes.
In conclusion, it gives me a great pleasure to be able to support the growth of the veterinary profession and industry with the assistance from the EXCO and the Subcommittees. We look forward to reaching greater heights in our profession, in tandem with the rest of the world. Let us works together to ensure that the veterinary profession retains its excellence and fulfill all the hopes placed in it, and let us go on protecting it from all risks that it faces.
Thank you!
Dato' Dr. Norlizan Bin Mohd Noor VAM President 2018-2020